VersaFile Joins Growing Ecosystem of Partners Using IBM Cloud Paks with Red Hat OpenShift to Modernize Mission-Critical Workloads
VersaFile Intends to Use the New IBM Automation Foundation to Enable Clients to Focus on High-Value Work.
Vancouver, BC – May 11, 2021 – VersaFile today announced its intent to join IBM's (NYSE: IBM) ecosystem of partners using IBM's new Automation Foundation and IBM Cloud Paks for Automation to manage and modernize its mission-critical workloads across hybrid cloud environments. IBM Cloud Paks for Automation is an AI-powered portfolio that helps customers streamline business processes, automate tasks based on data analysis and continuously improve workflows that run centrally, in networks, and at the edge.
IBM Cloud Paks for Automation, AI-powered hybrid cloud software solutions built on Red Hat OpenShift, offer enterprises a portable, flexible and secured path to optimization by automating business and IT processes to accelerate growth.
An early adopter of container technology, VersaFile is one of the first IBM Gold Business Partners to build IBM Cloud Pak for Business Automation solutions for its clients. Based on VersaFile's Intelligent Automation Centre of Excellence (CoE), the company works to drive ROI for its clients by helping them identify, digitize, and automate core business areas with IBM Cloud Paks for Business Automation.
"Our goal is to embed automation in everything that we do," said Sean Fitzpatrick, Principal and CEO, VersaFile. "Within three years, VersaFile aims to integrate automation capabilities in every solution, process, and offering for our clients by relying on IBM technologies."
"IBM Cloud Paks for Automation offer ecosystem partners like VersaFile the flexibility, security and portability to automate business and IT operations, unlock the true value of their data and accelerate their path to digital acceleration," said Evaristus Mainsah, General Manager, IBM Hybrid Cloud and Edge Ecosystem. "IBM's growing ecosystem increases opportunities for customers to tap into the IBM Automation portfolio to streamline operations, increase efficiencies and accelerate revenue growth."
Announced today at IBM Think, the IBM Automation portfolio includes a new AI capability designed to help professionals self-automate routine tasks so they can focus on higher-value work. Designed in IBM Research, IBM Watson Orchestrate uses natural language processing (NLP) technology to interact with users through a variety of messaging platforms and is currently in preview within IBM Cloud Paks for Automation.
VersaFile is part of IBM's partner ecosystem, an initiative to support ecosystem partners of all types — whether they build on, service or resell IBM technologies and platforms — to help clients manage and modernize workloads from bare-metal to multicloud and everything in between using IBM Cloud Pak solutions built on Red Hat OpenShift, the industry's leading enterprise Kubernetes platform.
VersaFile achieved the Expert level IBM Digital Business Automation Competency. Competencies are created by IBM PartnerWorld to demonstrate partners' technical proficiency and expertise in delivering high-value solutions and services to customers.
VersaFile is a Vancouver-based technology services and software company providing intelligent content and process automation solutions. This includes managed services, strategic consulting, implementations, and commercial software hyperconnecting SAP attachments throughout an organization. We work very closely with IBM and SAP and have considerable technical competency on IBM Cloud Pak for Business Automation and IBM Digital Business Automation (DBA). Our purpose is to generate outcomes that make a difference by making our solutions easy, highly functional, and quick to value.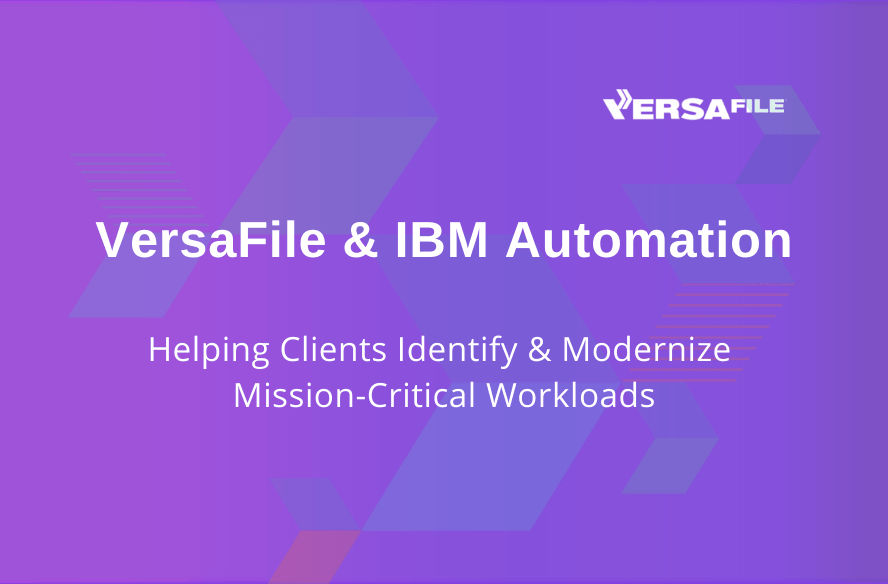 Sign up for future blogs and let us know which Intelligent Automation topics are of most interest to you.