Infusing Intelligence in Business Decision Making – Why should you care?
There's been a lot of investment and momentum around the growing need for digital transformation. Most recently accelerated by the pandemic and the needs of a remote workforce, transformation is now driven by a new set of factors, including the challenge of finding and keeping knowledge workers. From our experience, this is the single biggest challenge most organizations with knowledge workers face today.
In addition, the cost of talent is rising. If a knowledge worker leaves the organization, you may have to pay a 20 percent premium to attract a replacement, not to mention training and onboarding costs. If this continues, it could turn out to be unsustainable for organizations to continue to rely on hiring new people to handle today's workload.
Or course, the labor shortage isn't the only concern. Businesses need to remain competitive by increasing their agility. And there are pressures to improve the customer experience, cut costs, or deal with supply chain issues, just to name a few common challenges.
Build on RPA to Automate Decisions, Not Just Tasks
What if you could retain your intellectual capital, cut costs, solve hiring dilemmas, and improve the customer experience with one technology strategy? Depending on your situation, it may be possible.
This has been an area of focus for Robotic Process Automation from its inception, the idea of a digital twin (software robot) that could be used to automate manual processes, freeing up workers to do value work, instead of repetitive menial tasks.  A digital worker, that is available 24 hours, 7 days a week and can easily scale for peak periods, quarter close, peak sales periods and so on.  Applied to the right use cases RPA has fulfilled this promise for many organizations delivering both improved employee productivity, fulfilment as well as providing a significant ROI in terms labour costs, and improved processing cycles. Check out this article on RPA vs BPM – What's better for my Use Case?.     
With all the promise of RPA, one area where organizations struggle is when RPA is extended beyond task and desktop automation into broader use cases, often introducing broader orchestration, longer running processes, and more complex code, to support routing and decision trees. The end result is usually RPA processes that are more expensive to build and maintain and fall short of business expectations. Further, some processes require human interaction—a pause in the action to give a knowledge worker time to ponder the evidence, make judgments, and arrive at a final decision. Often this is a bottleneck in the process, requiring workers with specific knowledge and understanding. This was a resourcing challenge before, but today organizations regardless of industry are more and more challenged to adequately staff their operations, impacting customer experience and driving up operational costs.  
What if you could easily manage and automate business rules, decisions, and recommend next best actions?
Automating Decisions with Intelligent Decision Services
Intelligent Decision services is the process of using machine learning and business rules to automate decision making. Decision Services often involves making intelligent operational decisions to improve customer experiences.
Automating decisions through a business rules management system (BRMS) enables businesses to create and manage business logic independently from applications and processes. Businesses can also leverage AI and machine learning to make decisions with precision, targeting each customer interaction intelligently.
Because Intelligent decision services are easily integrated with other IT systems, your applications can scale and execute automated decisions across multiple channels. Business rules software is typically quick and easy to update, giving businesses the agility and speed to meet changing demands.
In looking at the broader application organizations make numerous operational decisions every day as part of their business operations. The scope of these decisions can include areas such as product and service pricing, and credit and loan approval, as well as risk management and fraud detection.
Operational decisions apply business policies, which are often influenced by numerous factors that can be both internal and external to an organization. Today's ever-changing business climate requires business experts to directly control their decision-making processes, and the data driving these decisions. They must also make their processes accessible immediately to their enterprise applications. Checkout this article on empowering business users to create and manage business logic with decision services.
An example of Intelligent Decision Services is IBM's Automation Decision Services (ADS)
Automation Decision Services delivers advanced decision automation capabilities. Using Decision Designer, business experts can model, author, and validate decisions in one development environment. They can also infuse intelligence into business decisions. By combining decision models and predictive models ADS provides decision modeling capabilities that help business experts capture and automate repeatable decisions.
Modeling and authoring business decisions
The intuitive and graphical user interface of Decision Designer brings together all the tools business experts need to model complex business decisions.
Infusing business decisions with machine learning (ML)
The data of your organization contains highly valuable information that you can use to help you make better decisions. You can integrate predictive models with decision models to gain insight into your data and make business decisions with greater accuracy.
Collaborating on decision services
Automation Decision Services provides enhanced collaboration workflows and greater control over decision files.
Deploying and executing decision services
When a decision service is ready for deployment, it can be securely deployed through a continuous integration and delivery (CI/CD) stack before being rolled out to production.
Whether based on IBM Automation Decisions Services, or another Decision Management System, correctly implemented, will cut costs and give you the ability to do more without augmenting your workforce, and free up your knowledge workers to put their attention on more important tasks.
Infuse Intelligence and Open the Door to Decisions
By scaling out decision making with Intelligent Decision Services organizations can make more decisions faster, with better consistency and better results. At the same time, organizations can free up significant knowledge worker time to apply to solving bigger problems and seizing big opportunities.
This is where you get ROI from your intelligent automation investment. By taking humans out of the decision loop, you have more knowledge worker time available to move the organization forward. It's the biggest bang for your buck if you want to remain competitive and continue to provide the same level of experience that your customers have come to expect. And, with more knowledge workers with more time on their hands, you have less pressure to recruit expensive talent.
If you build a strong foundation for automation now by optimizing business processes, you can reap the ROI that intelligent automation promises.
Our experts are working on intelligent automation projects in many industries. Our Free Automation First workshop is designed to help you better understand which business automation technique makes sense for your situation.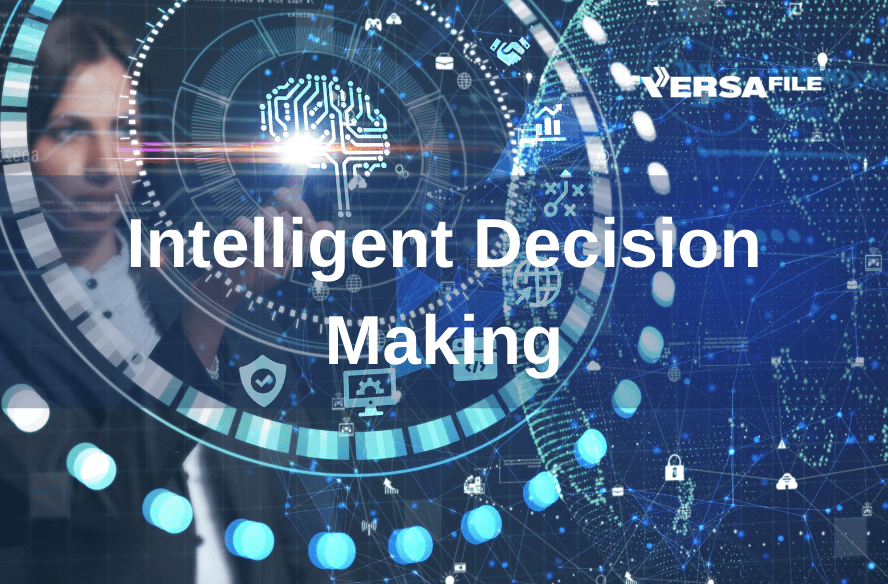 Sign up for future blogs and let us know which Intelligent Automation topics are of most interest to you.